Jim Harris started it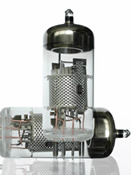 Vacuum tubes
were a big deal
when Jim Harris
started in the
business.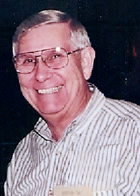 Jim Harris

hen the late Jim Harris went to work for Lavender Electronics in 1957, he probably had no idea that he was taking the first step in building a legacy of quality and service in the electronic distributing business that would thrive into the next century. Now in the 21st century, the company he started in 1985 after he had more than 28 years experience in industrial and commercial electronics, Harris Electronic Distributing, is still successful.
Jim left Lavender Electronics in 1960 and went to work in the Pine Bluff store of David White Electronics, a company headquartered in Little Rock. He worked there for the next 25 years until David White closed its doors in 1985. He went back to Lavender Electronics after David White ceased operations. By this time, Jim figured with his experience in the business, he could make it on his own.
A new company
Armed with this determination, he teamed up with Roger Booth of Texarkana to form Booth and Harris Electronic Distributing Inc. At that time the Pine Bluff store was on West 28th Avenue. In 1986, Booth and Harris moved their business to the present location, 809 West 6th Avenue in Pine Bluff.
Carl and Scott come on board
In 1982 Scott McFalls came to work for Jim at David White Electronics. Three years later, Harris ran into Carl Patterson at Arthur's Barbeque in Pine Bluff and asked Carl if he would like a job. The offer was a Godsend to Patterson who had been laid-off his job at the International Paper Company Mill. Patterson was a quick study in the electronics business and quickly carved his niche in the organization.
In 1986, Scott believed he saw greener pastures at the paper mill and worked there for the next 16 years. In 2002, he reversed his field, left the paper mill and returned to Harris Electronics.
Name change and changing hands
Jim Harris retired in 2002. Upon his retirement, Jim and Roger Booth amicably terminated their partnership. The Pine Bluff store became known as it is today, Harris Electronic Distributing. Jim's son, the late Carl "Bubba" Harris, assumed control of the company. Patterson and McFalls remained on board. In 2003, Bubba Harris was killed in a tragic accident. In 2005, Carl Patterson and Scott McFalls bought Harris Electronic Distributing from the Harris family. They are now the sole owners of the company.
Some things change. Some things don't.
The roots of Harris Electronics business experience and successful traditions of service reach back more than five decades. While we continually seek to meet the needs of our customers with new products, services, and procedures, our core values remain the same. And always will.